ANALYSIS OF THERMAL STATE OF TRACTION BRUSHLESS PERMANENT MAGNET MOTOR FOR MINE ELECTRIC LOCOMOTIVE
Keywords:
brushless motor, heat generation, temperature, losses, permanent magnet, coil, current, resistance, mathematical model, FEM
Abstract
Purpose.
The study was conducted to analyze thermal state of the traction permanent magnet synchronous motor for mine electric battery locomotive when operating in continuous and short-time duty modes. These operating modes are selected for study, as they are typical for mine electric locomotives. Methodology. Thermal calculation was performed by means of FEM in three-dimensional formulation of problem using Jmag-Designer. Results. The modeling results of thermal state of the PMSM in continuous and short-time duty operation modes showed good agreement with experimental results. The results showed that the temperature of PM is higher than temperature of the stator winding in continuous operation mode. It was found that PM temperature might reach excessive values because of the high presence of eddy current losses in neodymium PM. Therefore, special attention in the design and testing of PMSM should be paid to the temperature of PM in various operation modes. Practical value. It was recommended to use high temperature permanent magnets in traction PMSM to avoid demagnetization of PM and performance degradation.
References
1. Lee S.-T., Kim H.-J., Cho J.-H., Joo D.-S., Kim D.-K. Thermal Analysis of Interior Permanent-Magnet Synchronous Motor by Electromagnetic Field-Thermal Linked Analysis. Journal of Electrical Engineering and Technology, Nov.2012, vol.7, no.6, pp. 905-910. doi: 10.5370/jeet.2012.7.6.905.
2. Mynarek P., Kowol M. Thermal analysis of a PMSM using fea and lumped parameter modeling. Czasopismo Techniczne, 2015, no.1-E(8), pp. 97-107. doi: 10.4467/2353737XCT.15.031.3831.
3. Chin Y.K., Staton D.A. Transient thermal analysis using both lumped-circuit approach and finite element method of a permanent magnet traction motor. 2004 IEEE Africon. 7th Africon Conference in Africa (IEEE Cat. No.04CH37590). doi: 10.1109/africon.2004.1406847.
4. Kefalas T.D., Kladas A.G. Finite element transient thermal analysis of PMSM for aerospace applications. XXth International Conference on Electrical Machines, Sep. 2012. doi: 10.1109/icelmach.2012.6350246.
5. Rimsha V.V., Radimov I.N., Guliy M.V., Matyuschenko A.V. Brushless motor for mining battery-electric locomotive. Electrotechnic and computer systems, 2016, vol.22(98), pp. 134-138. (Rus).
6. Matyuschenko A.V. Calculation of characteristics of permanent magnet synchronous motor and their comparative analysis. Electrotechnic and computer systems, 2015, vol.19(95), pp. 101-105. (Rus).
7. Borisenko A.I. Ohlazhdenie promyshlennyh jelektricheskih mashin [Cooling of industrial electric machinery]. Moscow, Energoatomizdat Publ., 1983. 296 p. (Rus).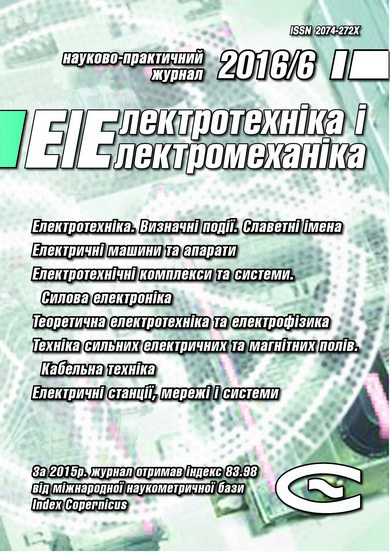 Downloads
How to Cite
Matyuschenko, A. V. (2016). ANALYSIS OF THERMAL STATE OF TRACTION BRUSHLESS PERMANENT MAGNET MOTOR FOR MINE ELECTRIC LOCOMOTIVE. Electrical Engineering & Electromechanics, (6), 15–18. https://doi.org/10.20998/2074-272X.2016.6.03
Section
Electrical Machines and Apparatus
License
Copyright (c) 2016 A. V. Matyuschenko
This work is licensed under a Creative Commons Attribution-NonCommercial 4.0 International License.
Authors who publish with this journal agree to the following terms:
1. Authors retain copyright and grant the journal right of first publication with the work simultaneously licensed under a Creative Commons Attribution License that allows others to share the work with an acknowledgement of the work's authorship and initial publication in this journal.
2. Authors are able to enter into separate, additional contractual arrangements for the non-exclusive distribution of the journal's published version of the work (e.g., post it to an institutional repository or publish it in a book), with an acknowledgement of its initial publication in this journal.
3. Authors are permitted and encouraged to post their work online (e.g., in institutional repositories or on their website) prior to and during the submission process, as it can lead to productive exchanges, as well as earlier and greater citation of published work.