REQUIREMENTS FOR DEVICES FOR VERTICAL ELECTRICAL SOUNDING OF SOIL AT DIAGNOSTICS OF GROUNDING DEVICES
Keywords:
vertical electrical sounding, grounding device, soil, energy object, technical requirements for equipment
Abstract
Purpose.
Creation the scientific requirements for technical characteristics of equipment for vertical electrical sounding based on the electrophysical characteristics of the soil of energy objects with the different voltage classes. Methodology. In work used statistical methods for the analysis database of results the soil sounding and for receiving distribution of largest size of the grounding system. To determine the required range of measurement and permissible value of circuit resistance applied the mathematical description of the electromagnetic field to calculate the apparent resistivity of the soil and the Wenner method of calculating the resistance of a vertical electrode. Also, in work used elements of probability theory to creation the stochastic correlation between device parameters and characteristics object of the research. Results. In the paper found that in the most severe cases (when the depth of sounding is the three maximal diagonal of grounding) at 99% energy objects in Ukraine the lower limit of resistance measurement for the respective classes of voltage must be no more than 1.3 milliohms to 35 kV, 0.6 mOhm to 110 kV, 0.5 milliohms to 150 kV, 0.1 mOhm for ≥ 220 kV. Also it proved that the measurement equipment for vertical electrical sounding when performing electromagnetic diagnostics of grounding system the power facilities Ukraine with 35-750 kV voltage class for all possible values of soil resistivity should be with limit of measurement from 0.1 mOhm to 7.2 kOhm and resistance measuring circuit to 66 kOhm. Originality.For the first time used a statistical approach to evaluate the optimal technical requirements for equipment the soils resistivity when performing diagnostics of grounding systems energy objects of Ukraine. The results obtained in this work, establish the probabilistic dependence of the technical characteristics of measuring equipment from the actual depth of sounding in Wenners configuration (the distance between electrodes) and from the voltage class of object. Practical value. The obtained results allow depending on the specific parameters of the object optimally select the equipment. This technique allows you to create a range of equipments with optimal cost and overall dimensions depending on the region (considering to a significant spread of values of soil resistivity) and on the voltage class of investigated object.
References
1. Averbukh M.A. Zabusov V.V., Panteleev V.I. Sistemnyi podkhod k otsenke zazemliaiushchikh setei elektroustanovok severnykh promyshlennykh kompleksov [The systematic approach to the evaluation of grounding grids electrical installations of northern industrial complexes]. Krasnoyarsk, Siberian Federal University Publ., 2009. 164 p. (Rus).
2. Hördt A. Praktikumsunterlagen Angewandte Geophysik und Geoelektrik. Technische Universität Braunschweig Institut für Geophysik und extraterrestrische Physik, 2006. 11 p. (Ger).
3. Shevnin V.A., Kolesnikov W.P. Rating depth VES for the uniform and layered medium. Electronic Journal «GEORazrez», 2011, no.1(8), pp. 1-9. Available at: http://www.georazrez.ru/download/2011/08/Shevnin- Otcenka_glubinnosti_VEZ.pdf (Accessed 10 November 2013). (Rus).
4. Kolesnikov V.P. Osnovy interpretatsii elektricheskikh zondirovanii [Fundamentals of electrical sounding interpretation]. Moscow, Nauchnyi mir Publ., 2007. 248 p. (Rus).
5. Koliushko G.M., Koliushko D.G., Rudenko S.S. On the problem of increasing computation accuracy for rated parameters of active electrical installation ground grids. Electrical engineering & electromechanics, 2014, no.4, pp. 65-70. (Rus). doi: 10.20998/2074-272X.2014.4.13.
6. Koliushko D.G., Rudenko S.S., Koliushko G.M. Analysis of electrophysical characteristics of grounds in the vicinity electrical substation of Ukraine. Electrical engineering & electromechanics, 2015, no.3, pp. 67-72. (Rus). doi: 10.20998/2074-272X.2015.3.10.
7. Borisov R.K., Gorshkov A.V., Zharkov Y.V. Zazemliaiushchie ustroistva elektroustanovok (trebovaniia normativnykh dokumentov, raschet, proektirovanie, konstruktsii, sooruzhenie): spravochnik [The grounding system of electrical installations (regulatory requirements, calculation, design, construction: Handbook]. Moscow, Publishing House MEI, 2013. 360 p. (Rus).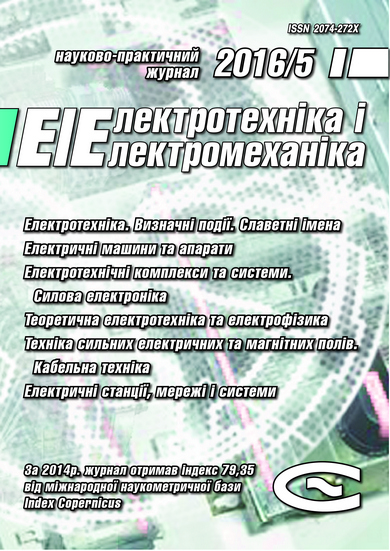 Downloads
How to Cite
Rudenko, S. S. (2016). REQUIREMENTS FOR DEVICES FOR VERTICAL ELECTRICAL SOUNDING OF SOIL AT DIAGNOSTICS OF GROUNDING DEVICES. Electrical Engineering & Electromechanics, (5), 68–73. https://doi.org/10.20998/2074-272X.2016.5.12
Section
Power Stations, Grids and Systems
License
Copyright (c) 2016 S. S. Rudenko
This work is licensed under a Creative Commons Attribution-NonCommercial 4.0 International License.
Authors who publish with this journal agree to the following terms:
1. Authors retain copyright and grant the journal right of first publication with the work simultaneously licensed under a Creative Commons Attribution License that allows others to share the work with an acknowledgement of the work's authorship and initial publication in this journal.
2. Authors are able to enter into separate, additional contractual arrangements for the non-exclusive distribution of the journal's published version of the work (e.g., post it to an institutional repository or publish it in a book), with an acknowledgement of its initial publication in this journal.
3. Authors are permitted and encouraged to post their work online (e.g., in institutional repositories or on their website) prior to and during the submission process, as it can lead to productive exchanges, as well as earlier and greater citation of published work.