INSTANTANEOUS AND INTEGRAL POWER EQUATIONS OF NONSINUSOIDAL 3-PHASE PROCESSES
Keywords:
three-phase circuit, classical instantaneous power, vector instantaneous power, complex 3-dimensional Fourier series, active and reactive power, complex vector power, apparent power, complex pulsation power, power equation, unbalanced mode
Abstract
Purpose.
To identify the mathematical relationship between the instantaneous powers (classical and vectorial) and integral powers in non-sinusoidal mode and to get complex form of instantaneous powers in 3-phase 4-wire power supply in terms of the spectral approach. Methodology. We have applied the vector approach with one voice allows you to analyze the energy characteristics of 3-phase power supply circuits (for 4-wire and 3-wire circuits) in sinusoidal and non–sinusoidal mode, both the time domain and frequency domain. We have used 3-dimensional representation of the energy waveforms with the complex multi-dimensional Fourier series. Results. For 4-wire network with a non-sinusoidal (regardless of their symmetry) processes, we have developed the mathematical model one-dimensional representations of the complex form for the active (scalar) instantaneous power (IP) and 3-dimensional form (inactive) vectorial IP. It is possible to obtain two dual integral power equations for complex scalar and vector integrated power of non-sinusoidal modes. The power equations generalize generalizes the equations of sinusoidal modes for 4-wire network. Originality. In addition to the classification of energy local regimes in the time domain for the first time we spent the classification of non-sinusoidal modes in the spectral region and showed the value and importance of the classification of regimes based on the instantaneous powers. Practical value. The practical value the obtained equations is the possibility of their use for improving the quality of electricity supply and the quality electricity consumption.
References
Sirotin Iu.А. Vectorial instantaneous power and energy modes in three-phase circuits. Tekhnichna elektrodynamika – Technical electrodynamics, 2013, no.6, pp. 57-65. (Rus).
Korn G., Korn T. Spravochnik po matematike dlia nauchnykh rabotnikov i inzhenerov [Mathematical handbook for scientists and engineers]. Moscow, Nauka Publ., 1973. 832 p. (Rus).
Sirotin Iu.A. Non-pulsed mode of supply in a three-phase system at asymmetrical voltage. Przeglad Elektrotechniczny, 2013, no.7, pp. 54-58.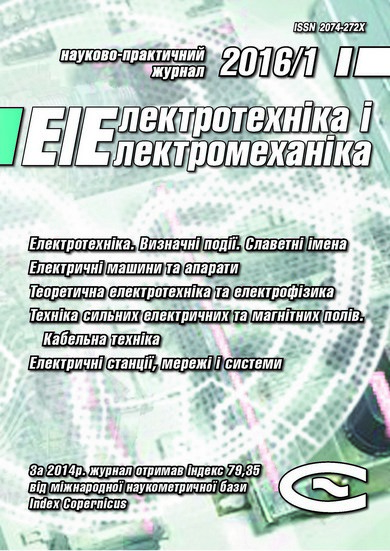 Downloads
How to Cite
Sirotin, I. A., & Ierusalimova, T. S. (2016). INSTANTANEOUS AND INTEGRAL POWER EQUATIONS OF NONSINUSOIDAL 3-PHASE PROCESSES. Electrical Engineering & Electromechanics, (1), 69–73. https://doi.org/10.20998/2074-272X.2016.1.13
Section
Power Stations, Grids and Systems
License
Copyright (c) 2016 Iu. A. Sirotin, T. S. Ierusalimova
This work is licensed under a Creative Commons Attribution-NonCommercial 4.0 International License.
Authors who publish with this journal agree to the following terms:
1. Authors retain copyright and grant the journal right of first publication with the work simultaneously licensed under a Creative Commons Attribution License that allows others to share the work with an acknowledgement of the work's authorship and initial publication in this journal.
2. Authors are able to enter into separate, additional contractual arrangements for the non-exclusive distribution of the journal's published version of the work (e.g., post it to an institutional repository or publish it in a book), with an acknowledgement of its initial publication in this journal.
3. Authors are permitted and encouraged to post their work online (e.g., in institutional repositories or on their website) prior to and during the submission process, as it can lead to productive exchanges, as well as earlier and greater citation of published work.