IMPLEMENTATION APPROACHES DURING SIMULATION OF ENERGY PROCESSES FOR A DYNAMICALLY POSITIONED SHIP
Keywords:
ship power plants, combined propulsion complex, dynamic positioning, mathematical modeling, transfer of power, efficiency, regulation
Abstract
Purpose. Creation of a mathematical model of the ship's power plant (SPP) combined propulsion complexes (CPC) that takes into account the behavior of all objects, including the ship itself, the transfer of power from the medium speed diesel generators on the propellers, which will allow to take into account the hydrodynamic properties of the vessel and their impact on the energy processes in SPP CPC. Methodology. The analysis of energy processes in the SPP CPC in different operating conditions resulted in creation of a strategy for constructing mathematical models of SPP CPC. This strategy is based on the implementation on the vector plane resulting power characteristics of SPP vectors disturbances, leading to the deviation of the hydrodynamic characteristics of the ship during operation dynamic positioning. The result allowed to consider not only the features of setting PID-governors of frequency converters of electric thrusters but the automatic voltage regulators of medium speed diesel generators as well. Results. Within the research work a software package Ships_CPC in MatLab/Simulink was developed under the state budget project «Concepts, technologies and ways of improving ship power plants combined propulsion complexes» at the Department of Electromechanics and Electrical Engineering of Odessa National Maritime Academy. Originality. This complex represents a set of functional blocks of the components SPP CPC, built on the principle of «input-output». The simulation results demonstrate the ability to use software package Ships_CPC to study the effect of various settings on the energy regulators of processes SPP CPC, which can develop and integrate the different strategies of automatic voltage regulators. Practical value. Since software complex Ships_CPC was developed under Open system technology, it can reorganize, re-tune and integrate in processes of any difficulties with further completion in the form of a universal structure.
References
Radan D. Integrated control of marine electrical power systems. Thesis for the degree of philosophiae doctor, Trondheim, Norway, 2008. 231 p. Available at: http://www.diva-portal.org/smash/get/diva2:123798/FULLTEXT01.pdf (accessed 19 September 2015).
M.J. Sanjari, O. Alizadeh Mousavi, G.B. Gharehpetian. Assessing the risk of blackout in the power system including HVDC and FACTS devices. International Transactions on Electrical Energy Systems, 2013, vol.23, no.1, pp. 109-121. Available at: http://onlinelibrary.wiley.com/enhanced/doi/10.1002/etep.1619. (accessed 21 September 2015). doi: 10.1002/etep.1619.
Ocheretianyi Yu.A., Zhivitsa V.I., Belyi V.N., Onishchenko O.A., Vainfel'd E.I. Concept of computer monitoring and technical diagnostics for refrigeration unit of the ship. Sudovye energeticheskie ustanovki – Ship Power Plants, 2011, no.28, pp. 5-11. (Rus).
Budashko V.V., Onishchenko O.A. Improving management system combined thruster propulsion systems. Visnyk NTU «KhPІ» – Bulletin of NTU «KhPІ», 2014, no.38(1081), pp. 45-51. (Ukr).
Budashko V.V., Onishchenko O.A. Mathematical principles of simulation of power plant's control system at drillship. Vestnik Kamchatskogo gosudarstvennogo tekhnicheskogo universiteta – Bulletin оf Kamchatka State Technical University, 2014, no.29, pp. 6-13. (Rus).
Le Luo, Lan Gao, Hehe Fu. The control and modeling of diesel generator set in electric propulsion ship. International Journal of Information Technology and Computer Science, 2011, vol.3, no.2, pp. 31-37. Available at: http://www.mecs-press.org/ijitcs/ijitcs-v3-n2/IJITCS-V3-N2-5.pdf (accessed 21 September 2015). doi: 10.5815/ijitcs.2011.02.05.
Budashko V.V., Onischenko O.A., Yushkov E.A. Physical modeling of multi-propulsion complex. Zbirnyk naukovykh prats Viiskovoi akademii (m. Odesa) – Collection of scientific works of the Military Academy (Odessa City), 2014, no.2 pp. 88-92. (Rus).
Hansen J.F. Modelling and control of marine power systems. Doktor ingeniør thesis, Trondheim, Norway, 2000. 119 p. Available at: http://www.itk.ntnu.no/databaser/dr_ing_avhandlinger/vedlegg/110_pdf.pdf (accessed 21 September 2015).
Budashko V.V., Yushkov Y.A. Mathematic modeling of all-range controllers speed of thrusters for ship power plants in combined propulsion complexes. Electronnoe modelirovanie – Electronic Modeling, 2015, vol.37, no.2, pp. 101-114. (Rus).
WAMIT® / User manual // WAMIT, Inc.: Incorporated and Massachusetts Institute of Technology. – 2006. – 394 p. Available at: http://www.engr.mun.ca/~bveitch/courses/8000/software/wamit/wamit.pdf (accessed 21 September 2015).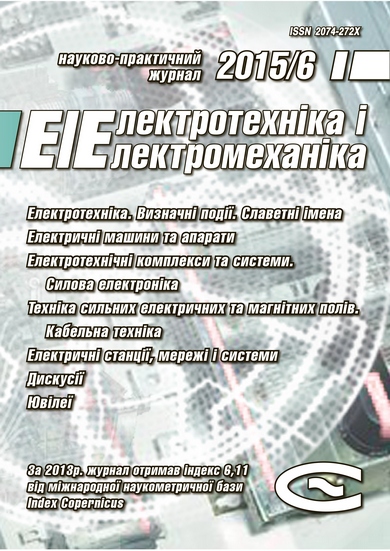 Downloads
How to Cite
Budashko, V. V. (2015). IMPLEMENTATION APPROACHES DURING SIMULATION OF ENERGY PROCESSES FOR A DYNAMICALLY POSITIONED SHIP. Electrical Engineering & Electromechanics, (6), 14–19. https://doi.org/10.20998/2074-272X.2015.6.02
Section
Electrical Machines and Apparatus
License
Copyright (c) 2015 V. V. Budashko
This work is licensed under a Creative Commons Attribution-NonCommercial 4.0 International License.
Authors who publish with this journal agree to the following terms:
1. Authors retain copyright and grant the journal right of first publication with the work simultaneously licensed under a Creative Commons Attribution License that allows others to share the work with an acknowledgement of the work's authorship and initial publication in this journal.
2. Authors are able to enter into separate, additional contractual arrangements for the non-exclusive distribution of the journal's published version of the work (e.g., post it to an institutional repository or publish it in a book), with an acknowledgement of its initial publication in this journal.
3. Authors are permitted and encouraged to post their work online (e.g., in institutional repositories or on their website) prior to and during the submission process, as it can lead to productive exchanges, as well as earlier and greater citation of published work.