PHYSIC BASIS OF ELECTROMAGNETIC INDUCTION LOW
Keywords:
electromagnetic induction low, Faraday, Maxwell, phenomenon
Abstract
The statement on the macro level of EMF dependence on change in magnetic flux in time wrong reflects the physical phenomenon of electromagnetic induction low by Faraday, because EMF can be inducted if the magnetic flux of the circuit does not change. Changing magnetic flux of the circuit when the electromotive force arises is only a result of crossing the magnetic field lines by conductor and is an exception, which applies only to certain classes of electric machines.
References
Bushok G.F., Levandovskiy V.V., Piven G.F. Kurs fiziki: Navchalniy posibnik: u 2 kn. Kn. 1. Fizichni osnovi mechaniki. Electrica i magnetism [Physics course: Tutorial: in 2 vols. Vol.1. Physical principles of mechanics. Electricity and Magnetism]. Kyiv, Libid Publ., 2001. 448 p. (Ukr).
Vol'dek A.I., Popov V.V. Elektricheskie mashiny. Vvedenie v elektromehaniku. Mashiny postojannogo toka i transformatory [Electrical machines. Introduction into electrical engineering. DC machines and transformers]. St.Petersburg, Piter Publ., 2008. 320 p. (Rus).
Goncharenko S.U. Fizika: Dovidkovi materiali dlya abiturientiv [Physics: Reference materials for entrants]. Kyiv, Libid Publ., 1996. 208 p. (Ukr).
Dmitrieva V.F. Fizyka: Navchal'nyy posibnyk [Physics: Tutorial]. Kyiv, Tehnika Publ., 2008. 648 p. (Ukr).
Zachek I.P., Kravchuk I.M., Romanishin B.M. Kurs fiziki: navchalniy pidruchnik [Physics course: Training Tutorial]. Lviv, Beskid Bit Publ., 2002. 376 p. (Ukr).
Krijanovskiy V.G. Fizika. Spravochnik shkolnika i studenta [Physics. Directory of pupils and students]. Donetsk, PKF "BAO" Ltd., 2008. 464 p. (Rus).
Kutkovetskyy V.J., Zaporozec Y.M. The interaction of conductor with a magnetic field. Elektrichestvo – Electricity, 1996, no.9, pp. 60-62. (Rus).
Kutkovetskyy V.J. The law of electromagnetic induction. Elektrotekhnіka і elektromekhanіka – Electrical engineering & electromechanics, 2014, no.4, pp. 34-39. (Ukr).
Livshiz A.L. Unipolarniy generator postoyannogo toka [Unipolar DC generator]. Patent USSR, no.104347, 1951, 3 p.
Mitkevich V.F. Magnitniy potok i ego preobrazovaniya [Magnetic flux and its conversion]. Moscow-Leningrad, Acad. of Sci. USSR Publ., 1946. 258 p. (Rus).
Parcel E. Electrichestvo i magnetism [Electricity and Magnetism]. Moscow, Nauka Publ., 1975. 440 p. (Rus).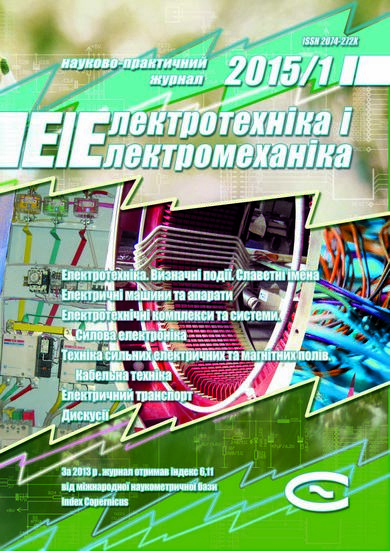 Downloads
How to Cite
Kutkovetskyy, V. J. (2015). PHYSIC BASIS OF ELECTROMAGNETIC INDUCTION LOW. Electrical Engineering & Electromechanics, (1), 72–78. https://doi.org/10.20998/2074-272X.2015.1.14
License
Copyright (c) 2015 V. J. Kutkovetskyy
This work is licensed under a Creative Commons Attribution-NonCommercial 4.0 International License.
Authors who publish with this journal agree to the following terms:
1. Authors retain copyright and grant the journal right of first publication with the work simultaneously licensed under a Creative Commons Attribution License that allows others to share the work with an acknowledgement of the work's authorship and initial publication in this journal.
2. Authors are able to enter into separate, additional contractual arrangements for the non-exclusive distribution of the journal's published version of the work (e.g., post it to an institutional repository or publish it in a book), with an acknowledgement of its initial publication in this journal.
3. Authors are permitted and encouraged to post their work online (e.g., in institutional repositories or on their website) prior to and during the submission process, as it can lead to productive exchanges, as well as earlier and greater citation of published work.