DIGITAL SUBSTATION COMPONENT SYSTEM "SMART GRID"
Keywords:
digital substation system, electricity, Smart Grid, automation
Abstract
New production technologies of modern control systems have moved from the stage of research and experimentation into the stage of practical use. Modern communication standards for the exchange of information are developed and introduced. Digital devices, protectors and automation are widely used. There has been substantial development of hardware and software of control systems.
References
Holbach J., Rodriguez J., Wester C., Baigent D., Frisk L., Kunsman S., Hossenlopp L. Status on the first IEC61850 based protection and control, multi-vendor project in the United States. Power systems conference: advanced metering, protection, control, communication, and distributed resources. Clemson, South Carolina, USA, 13-16 March 2007, pp. 254-277. Available at: https://www.gedigitalenergy.com/ smartgrid/Aug07/ EIC61850.pdf (accessed 11 September 2009).
Dogger G., Tennese G., Kakoske D., MacDonald E. Designing a new IEC 61850 substation architecture. Available at: http://www.cooperindustries.com/ content/dam/public/powersystems/products/grid_automation/resources/ Designing_a_new_IEC61850_substation_architecture.pdf (accessed 20 May 2010).
Caetano C., Pernes M. Introducing IEC61850 in distribution substations. Substation automation systems. Power-Grid Europe, transmission and distribution industry conference and exhibition. Madrid, Spain, 26-28 June 2007. Available at: http://www05.abb.com/global/scot/ scot221.nsf/veritydisplay/db4609c7176fbf05c12573b7004a7833/$file/ paper%20iec61850%20in%20portugal.pdf (accessed 20 July 2008).
Bautista Flores J., Garcia-Colon V.R., Melendez Roman C.G., Robles Ramirez E., Rasgado Casique J.P. First multivendor 400 kV transmission line protection scheme using an IEC 61850-9-2 digital network for optical CT's and protection relays. CIGRE Session. Paris, France, 26-31 August, 2012. Available at: http://www.cigre.org/content/download/16982/680406/ version/2/file/B3_111_2012.pdf (accessed 20 March 2013).
Ornatskii P.P. Avtomaticheskie izmereniia i pribory (Analogovye i tsifrovye). Izd. piatoe. [Automatic measurements and devices (Analog and digital. Fifth edition]. Kiev, Vysshaia shkola Publ., 1986. 504 p.
RD-34.11.114-98. Avtomatizirovannye sistemy kontrolia i ucheta elektroenergii i moshchnosti. Osnovnye normiruemye metrologicheskie kharakteristiki. Obshchie trebovaniia [RD-34.11.114-98. The automated monitoring systems and the accounting of the electric power and power. The main normalized metrological characteristics. General requirements]. Moscow, JSC VNIIE Publ., 1997. 15 р.
Cheremisin M.M., Zubko V.M. Avtomatizatsiia ob"ektov upravleniia elektrosnabzheniia [Automation of objects of management of power supply]. Kharkov, Fact Publ., 2005. 192 p.
Gryb O.G, Prahovnik A.V., Tesik Y.F., Zharkin A.F., Novskiy V.O., Kalinchik V.P., Karasinskiy O.L., Dovgalyuk O.M., Lazurenko O.P., Hodakivskiy A.M., Vasilchenko V.I., Svetelik O.D. Avtomatyzovani systemy obliku ta jakosti elektrychnoi' energii' [The automated systems of the account and quality of electric energy. Under edit. by Gryb O.G.]. Kharkiv, Ranok-NT Publ., 2012. 516 p.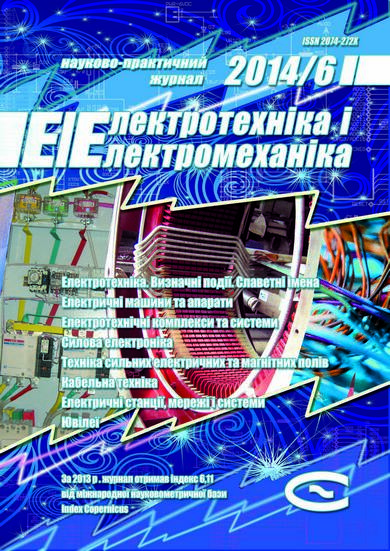 Downloads
How to Cite
Vasilchenko, V. I., Gryb, O. G., Leleka, O. V., Gapon, D. A., & Ierusalimova, T. S. (2014). DIGITAL SUBSTATION COMPONENT SYSTEM "SMART GRID". Electrical Engineering & Electromechanics, (6), 72–76. https://doi.org/10.20998/2074-272X.2014.6.13
Section
Power Stations, Grids and Systems
License
Copyright (c) 2015 V. I. Vasilchenko, O. G. Gryb, O. V. Leleka, D. A. Gapon, T. S. Ierusalimova
This work is licensed under a Creative Commons Attribution-NonCommercial 4.0 International License.
Authors who publish with this journal agree to the following terms:
1. Authors retain copyright and grant the journal right of first publication with the work simultaneously licensed under a Creative Commons Attribution License that allows others to share the work with an acknowledgement of the work's authorship and initial publication in this journal.
2. Authors are able to enter into separate, additional contractual arrangements for the non-exclusive distribution of the journal's published version of the work (e.g., post it to an institutional repository or publish it in a book), with an acknowledgement of its initial publication in this journal.
3. Authors are permitted and encouraged to post their work online (e.g., in institutional repositories or on their website) prior to and during the submission process, as it can lead to productive exchanges, as well as earlier and greater citation of published work.