Model building for current transformer paper-oil insulation state diagnostics
Keywords:
diagnostics, transformer equipment, insulation, a neural network
Abstract
A feedforward neural network based diagnostic model of oil-impregnated paper insulation of a current transformer has been developed. Its experimental validation as compared with a regression model has been performed.
References
Rassal'skiy A.N., Sakhno A.A., Konograj S.P., Spitsa A.G., Guk A.A. The analyze of the online-monitoring methods of the main isolation of current transformers and bushings 330-750 kV. Transactions of Kremenchuk Mykhailo Ostrohradskyi National University, 2009, no.3 (56), part 1, pp. 67-70.
Bojanich B., Poljak M. Izmeritel'nye transformatory – diagnostika kak predposylka nadezhnoj raboty. Zagreb Electrotechnical Institute, 2007, no.1, pp. 26-37.
Sakhno A.A. Mathematical model for prediction of the remaining resource of current transformers of 330-750 kV with paper-oil insulation. Bulletin of NTU "KhPІ", 2010, no.55, pp. 97-105.
Guk Yu.B. Teorija nadezhnosti v elektroenergetike: High school book. Leningrad, Energoatomizdat Publ., 1990. 208 p.
Fokin Yu.A., Tufanov V.A. Ocenka nadezhnosti sistem energosnabzhenija. Moscow, Energoatomizdat Publ., 1981. 224 p.
Hajkin S. Nejronnye seti: polnyj kurs. St.Petersburg, Williams Publ., 2005. 1104 p.
Rudenko O.H., Bodianskyi Ye.V. Shtuchni neironni merezhi. Kharkiv, SMIT Company, 2006. 404 p.
Subbotin S.A., Olejnik A.A., Gofman E.A., Zajcev S.A., Olejnik A.A. Intellektual'nye informacionnye tehnologii proektirovanija avtomatizirovannyh sistem diagnostirovanija i raspoznavanija obrazov. Kharkov, SMIT Company, 2012. 317 p.
Subbotin S.O., Oliinyk A.O., Oliinyk O.O. Neiteratyvni, evoliutsiini ta multyahentni metody syntezu nechitkolohichnykh i neiromerezhnykh modelei. Zaporizhzhia, ZNTU Publ., 2009. 375 p.
Sakhno A.A. A dielectric dissipation measurement algorithm for the main insulation of current transformers and 330-750 kV bushings under on-line monitoring. Electrical engineering & electromechanics, 2010, no.2, pp. 54-56.
Kruglov V.V., Borisov V.V. Iskusstvennye nejronnye seti: Teorija i praktika. Moscow, Gorjachaja linija-Telekom Publ., 2001. 382 p.
Rassel S., Norvig P. Iskusstvennyj intellekt: sovremennyj podhod. Moscow, Williams Publ., 2006. 1408 p.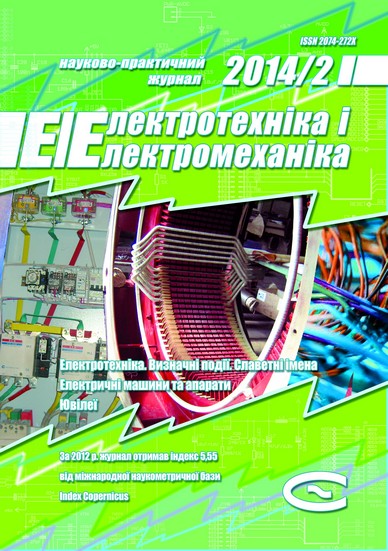 Downloads
How to Cite
Skrupskaya, L. S., Oliinyk, A. O., & Sakhno, A. A. (2014). Model building for current transformer paper-oil insulation state diagnostics. Electrical Engineering & Electromechanics, (2), 48–51. https://doi.org/10.20998/2074-272X.2014.2.11
Section
Electrical Machines and Apparatus
License
Copyright (c) 2015 L. S. Skrupskaya, A. O. Oliinyk, A. A. Sakhno
This work is licensed under a Creative Commons Attribution-NonCommercial 4.0 International License.
Authors who publish with this journal agree to the following terms:
1. Authors retain copyright and grant the journal right of first publication with the work simultaneously licensed under a Creative Commons Attribution License that allows others to share the work with an acknowledgement of the work's authorship and initial publication in this journal.
2. Authors are able to enter into separate, additional contractual arrangements for the non-exclusive distribution of the journal's published version of the work (e.g., post it to an institutional repository or publish it in a book), with an acknowledgement of its initial publication in this journal.
3. Authors are permitted and encouraged to post their work online (e.g., in institutional repositories or on their website) prior to and during the submission process, as it can lead to productive exchanges, as well as earlier and greater citation of published work.