AIR ATMOSPHERIC-PRESSURE DISCHARGERS FOR OPERATION IN HIGH-FREQUENCY SWITCHING MODE.
Keywords:
air spark discharger, multigap discharger, high-frequency switching
Abstract
Operation of two designs of compact multigap dischargers has been investigated in a high-frequency switching mode. It is experimentally revealed that the rational length of single discharge gaps in the designs is 0.3 mm, and the maximum switching frequency is 27000 discharges per second under long-term stable operation of the dischargers. It is shown that in pulsed corona discharge reactors, the pulse front sharpening results in increasing the operating electric field strength by 1.3 – 1.8 times.
References
Bojko N.I. Vysokovol'tnye iskrovye razryadniki dlya tehnologicheskih ustanovok / N.I. Bojko, A.V. Borcov, L.S. Evdoshenko [i dr.] // Pribory i tehnika `eksperimenta. - 2001. - № 2. - S. 79-88.
Vanyukov M.P. Issledovanie processa vosstanovleniya `elektricheskoj prochnosti iskrovogo promezhutka pri rabote ego v rezhime povtornyh razryadov / M.P. Vanyukov, V.I. Isaenko, G.N. Travleev // Zh. tehn. fiz. - 1962. - Tom XXXII. - № 6. - S. 746-752.
Yurgen B. Issledovanie kommutiruyuschih ustrojstv na osnove iskrovyh promezhutkov s predel'no vysokoj chastotoj kommutacii i vozmozhnostej ih primeneniya: avtoreferat diss. na soiskanie nauchn. stepeni kand. tehn. nauk: spec. 01.04.13 "`Elektrofizika, `elektrofizicheskie ustanovki" / B. Yurgen - SPb.: izd-vo SPbGPU. - 2003.
Mesyac G.A. Impul'snaya `energetika i `elektronika / G.A. Mesyac. - M.: Nauka, 2004. - 704 s.
Bojko N.I. Impul'snyj koronnyj razryad s rasshirennoj zonoj ionizacii: fizicheskie osnovy polucheniya i perspektivnye oblasti primeneniya / N.I. Bojko, A.V. Borcov, L.S. Evdoshenko [i dr.] // Elektrotehnіka і elektromehanіka. - 2004. - №3. - S. 98-104.
Vysokointensivnye fizicheskie faktory v biologii, medicine, sel'skom hozyajstve i `ekologii: trudy mezhdunar. konf. / pod red. V.D. Selemira, G.M. Spirova, V.I. Karelina. - Sarov: RFYaC-VNII`EF, 2009. - 282 s. - il. - C. 252-255.
Bojko N.I. Chastotnye iskrovye razryadniki / N.I. Bojko, L.S. Evdoshenko, A.I. Zarochencev, V.M. Ivanov // Vіsnik NTU "HPІ". - 2006. - №35. - S. 5-19.
Ozon i drugie `ekologicheski chistye okisliteli: Nauka i tehnologii: materialy 31-go Vseross. seminara. (Moskva, 2-3 iyunya 2010) / Himicheskij fakul'tet MGU. - M.: MAKS Press, 2010. - 294 s.: il. - S. 121-126.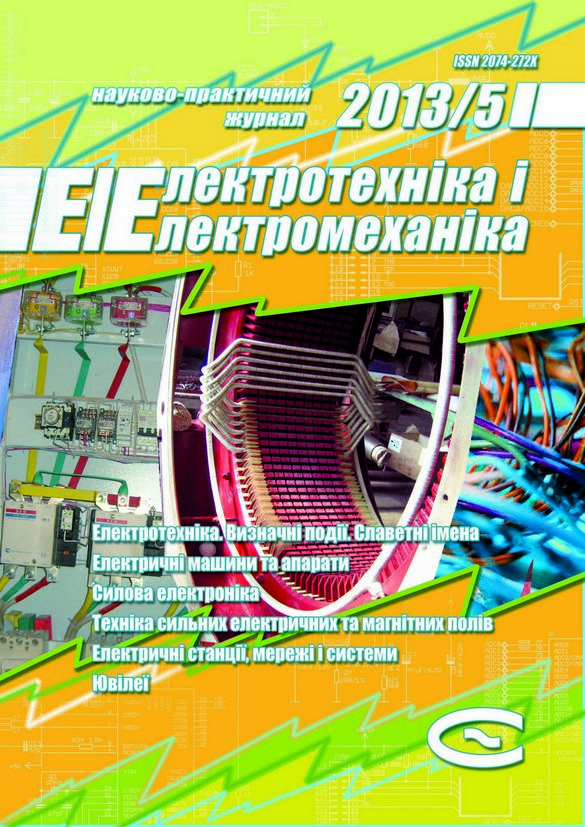 Downloads
How to Cite
Yevdoshenko, L. S. (2013). AIR ATMOSPHERIC-PRESSURE DISCHARGERS FOR OPERATION IN HIGH-FREQUENCY SWITCHING MODE. Electrical Engineering & Electromechanics, (5), 60–64. https://doi.org/10.20998/2074-272X.2013.5.13
Section
Engineering Electrophysics. High Electric and Magnetic Field Engineering
License
Copyright (c) 2015 L. S. Yevdoshenko
This work is licensed under a Creative Commons Attribution-NonCommercial 4.0 International License.
Authors who publish with this journal agree to the following terms:
1. Authors retain copyright and grant the journal right of first publication with the work simultaneously licensed under a Creative Commons Attribution License that allows others to share the work with an acknowledgement of the work's authorship and initial publication in this journal.
2. Authors are able to enter into separate, additional contractual arrangements for the non-exclusive distribution of the journal's published version of the work (e.g., post it to an institutional repository or publish it in a book), with an acknowledgement of its initial publication in this journal.
3. Authors are permitted and encouraged to post their work online (e.g., in institutional repositories or on their website) prior to and during the submission process, as it can lead to productive exchanges, as well as earlier and greater citation of published work.