ANALYSIS AND STUDY OF AMORPHOUS ALLOYS PROPERTIES
Keywords:
amorphous alloys, magnetic properties, anisotropy, magnetic circuit, current transformer
Abstract
The paper reviews and analyzes properties of amorphous alloys for the purpose of their application in magnetic systems of electrical apparatus instead of high-permeability electric steels. The studies have shown a possibility of utilizing these alloys in the magnetic structure of a current transformer in the pulsed voltage stabilizer of an automated circuit-breaker semiconductor release.
References
Mishin D.D. Magnitnye materialy. - M.: Vyssh. shk., 1991. - 384 s.; il.
Amorfnye metallicheskie splavy / Pod red. Lyuborskogo F.E.: Per. s angl. - M.: Metallurgiya, 1987. – 584 s.
Kekalo I.B. Atomnaya struktura amorfnyh splavov i ee `evolyuciya. - M.: Vyssh.shk., 2006. - 340 s.
Pavlenko T.P. Primenenie amorfnyh splavov v ustrojstvah zaschitnogo otklyucheniya. // Sb. nauchn. tr. Donbasskogo gosud. tehn. un-ta. - Alchevsk: Don GTU. - 2008. - Vyp. 26. - S. 343-347.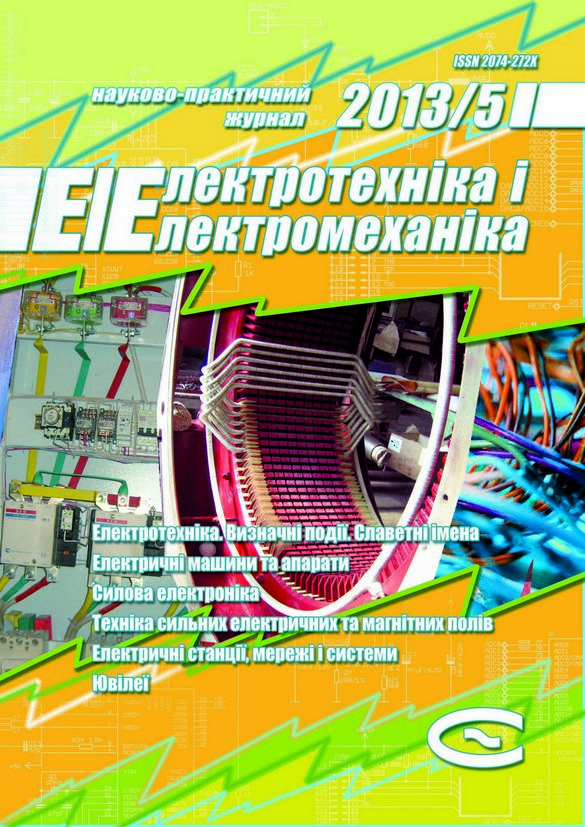 Downloads
How to Cite
Pavlenko, T. P., & Tokar, M. N. (2013). ANALYSIS AND STUDY OF AMORPHOUS ALLOYS PROPERTIES. Electrical Engineering & Electromechanics, (5), 45–47. https://doi.org/10.20998/2074-272X.2013.5.09
Section
Electrical Machines and Apparatus
License
Copyright (c) 2015 T. P. Pavlenko, M. N. Tokar
This work is licensed under a Creative Commons Attribution-NonCommercial 4.0 International License.
Authors who publish with this journal agree to the following terms:
1. Authors retain copyright and grant the journal right of first publication with the work simultaneously licensed under a Creative Commons Attribution License that allows others to share the work with an acknowledgement of the work's authorship and initial publication in this journal.
2. Authors are able to enter into separate, additional contractual arrangements for the non-exclusive distribution of the journal's published version of the work (e.g., post it to an institutional repository or publish it in a book), with an acknowledgement of its initial publication in this journal.
3. Authors are permitted and encouraged to post their work online (e.g., in institutional repositories or on their website) prior to and during the submission process, as it can lead to productive exchanges, as well as earlier and greater citation of published work.