An additional mechanism of spark electroconductive channel transversal evolution during transition to arc
Keywords:
spark, electroconductive channel, two-temperature models, electronic heat conductivity
Abstract
An additional mechanism of electroconductive channel evolution due to electronic heat conductivity in nonequilibrium plasma is considered in the work. Two-temperature models of stationary arcs are considered, the condition of the models application to simulating the arc phase of a spark discharge is validated. The given condition is based on ionization equilibrium time estimation. A mathematical model of electroconductive region expansion through mechanism of electronic heat conductivity is presented. Influence of the gas-discharge medium pressure, the plasma heavy component temperature gradient, the electric field strength on the electroconductive region evolution dynamics is investigated.
References
Pulsed and continuous detomations / [Edited by G. Roy, S. Frolov, J. Sinibaldi]. - Moscow: TORUS PRESS Ltd., 2006. - 376 p.
Advances in confined detonations/ [Edited by G. Roy, S. Frolov, R. Santoro, S. Tsyganov]. - Moscow: TORUS PRESS Ltd., 2002. - 312 p.
Netleton M. Detonaciya v gazah: Per. s angl. - M.: Mir, 1989. - 280s.
Kamenskihs V. On critical energy for direct initiation of spherical detonations in stoichiometric high-pressure H2-O2 mixtures // Combustion and Flame. - 2010. - V. 157. - P. 1795-1799.
Lee J. H. S. Initiation of gaseous detonation // Annual Review of Physical Chemistry. - 1977. - №28. - P. 75-104.
Matsui H., Lee J.H. Influence of Electrode Geometry and Spacing on the Critical Energy for Direct Initiation of Spherical Gaseous Detonations // Department of Mechanical Engineering, McGill University. - 1976. - Vol. 27 - P. 217-222.
Zel'dovich Ya.B. Fizika udarnyh voln i vysokotemperaturnyh gidrodinamicheskih yavlenij. - M.: FTL, 1963. - 686 s.
Fizika i tehnika nizkotemperaturnoj plazmy / S.V. Dresvin, A.V. Donskoj, V.M. Gol'dfarb i dr.; pod obschej red. S.V. Dresvina. - M.: Atomizdat, 1972. - 352 s.
Rajzer Yu.P. Fizika gazovogo razryada: Uchebnoe rukovodstvo. - M.: Nauka. Gl. red. fiz.-mat. lit., 1987. - 592 s.
Zimin A. M. Matematicheskoe modelirovanie processov v plazmennyh ustanovkah. - M.: Izd-vo MGTU im. N.`E. Baumana, 2006.
Koryt­chenko K.V., Dovbnya A.N., Volkolupov Yu.Ya. i dr. Upravlenie impul'snoj dugoj s cel'yu `effektivnogo razogreva gaza // Zhurnal tehnicheskoj fiziki. - 2008. - T.78. - № 4. - S. 26-34.
Korytchenko K.V., Bolyukh V.F., Poklonskiy E.V. Influence on the electric field into positive column of pulsed arc // IV international conference "Electronics and applied physics" Taras Shevchenko National University of Kyiv, Radiophysics Faculty, 23-25 October 2008, Kyiv, Ukraine.
Mak-Donald A. Sverhvysokochastotnyj proboj v gazah. M.: Mir. - 1969.
Peter M. Banks Collision frequencies and energy transfer-electrons // Report of the office of Naval Research No 00009-66/1966.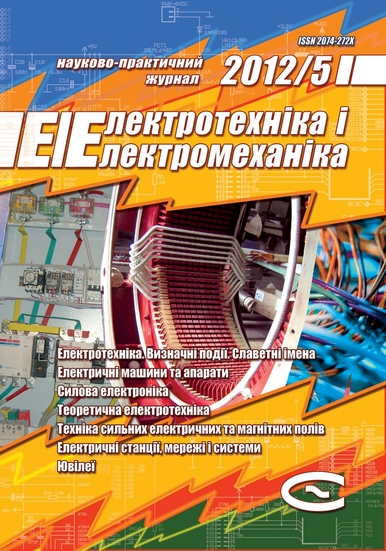 Downloads
How to Cite
Korytchenko, K. V., Poklonskiy, E. V., & Bolyukh, V. F. (2012). An additional mechanism of spark electroconductive channel transversal evolution during transition to arc. Electrical Engineering & Electromechanics, (5), 63–70. https://doi.org/10.20998/2074-272X.2012.5.14
Section
Engineering Electrophysics. High Electric and Magnetic Field Engineering
License
Copyright (c) 2015 K. V. Korytchenko, E. V. Poklonskiy, V. F. Bolyukh
This work is licensed under a Creative Commons Attribution-NonCommercial 4.0 International License.
Authors who publish with this journal agree to the following terms:
1. Authors retain copyright and grant the journal right of first publication with the work simultaneously licensed under a Creative Commons Attribution License that allows others to share the work with an acknowledgement of the work's authorship and initial publication in this journal.
2. Authors are able to enter into separate, additional contractual arrangements for the non-exclusive distribution of the journal's published version of the work (e.g., post it to an institutional repository or publish it in a book), with an acknowledgement of its initial publication in this journal.
3. Authors are permitted and encouraged to post their work online (e.g., in institutional repositories or on their website) prior to and during the submission process, as it can lead to productive exchanges, as well as earlier and greater citation of published work.